Popup plugins help to convert website users into regular email subscribers for newsletters. And I'll explain one of the best WordPress popup plugin in 2022.
These pop-ups are incredible for nearly anything you need to appear in a popup window, similar to contact structures, email collection, and even custom components.
Popup Maker
Let's check out Popup Maker first. This WordPress popup plugin has the most 5 star ratings on WordPress and this is the reason why I pick it up as the first plugin in my article. It seems that we can create almost any type of popup with it, like slide-out, floating and sticky pop-ups, loading screen, video lightbox, and also the so popular email opt-in form.
It comes with a dedicated menu element on our dashboard named Popup Maker where we can access its settings as well as the popup creator page. It also has a built-in email subscription form that can gather data like email and full name right into your WordPress website mailing list. Just be careful to use the GDPR option, if you collect data from people in the EU.
In the Popup Settings, you can add triggers and cookies. And in the targeting settings, you can pick a specific page where you want this popup to appear. Popups are displayed on any device by default but you can deactivate them on mobile devices by checking these boxes.
This WordPress popup plugin provides the Display tab, you can pick the popup theme, size, animation, position, and some advanced settings too, which will fine-tune the look and behaviour of your popup. For closing your popups, you can use a button or you can set it to close automatically after submission.
There are some alternative methods too. And there are some useful options in the advanced tab for disabling accessibility features and automatic re-triggering. There is no preview button but once you click update, you can use the Popup Maker menu on the top bar to see how it looks.
Popup Builder
This amazing WordPress popup plugin gets second place on my list because of the number of reviews and active installations. The developers behind this plugin take care of bugs and security issues.
Compared to the popup plugin presented earlier, this popup builder comes with a Newsletter Settings area, which is great. It means that you can send emails to all of your subscribers, but before sending a newsletter, you need to have at least one popup created.
Another interesting feature is this Category tab where you can create categories for your popups. Well, in its free version, this plugin allows you to create images, HTML, Facebook, subscriptions, and Ideas. The most popular one is the Subscription popup.
There are a lot of settings below, including the design options, dimensions, and things like custom JS or CSS fields, which require some coding knowledge, but it can be useful to customize your popup even more.
This WordPress popup plugin gives you a live preview below the editor. We can pick a custom background colour and adjust the form padding, enable the GDPR compliant checkbox and play around with more settings below.
Let me know which plugin is your favourite in the comments below.
Hustle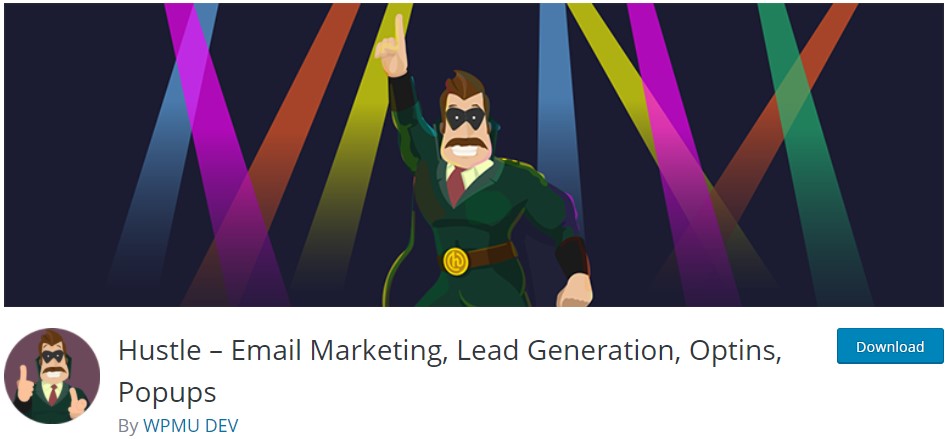 Here comes the last WordPress popup plugin in this article. Hustle is an all in one marketing plugin, which comes with things like pop-ups, slide-ins, embeds, social sharing, integrations, and email lists. Its interface is the best I've tested so far, intuitive, and user friendly.
The popup plugin can be an email opt-in as well as a simple informational message. Something like Huge Sale, or Discount, for example, and then you will go to the page where you need to add your content like the title and subtitle of your popup.
It feels like a very well designed user interface with a separate tab for appearance settings, visibility, and behaviour. In the appearance tab, you can pick some default colour combinations as well as custom colours for everything in your popup, which is great.
Conclusion
So, ow you easily understand that the above WordPress popup plugins are important for websites as well as businesses.
Want to see a complete tutorial with this WordPress popup plugin? Let me know in the comments which one you pick for a detailed article, and I will write that article for you guys.