The attractive and perfect usable themes are important for a website. It should be easy to navigate because better navigation and attractive WordPress themes increase user experience and drive more traffic to your WordPress website.
And I'm providing you with the Best free WordPress themes in 2022 that will make your website more attractive.
Here we go!!!
1. Shapely
It is an advanced free WordPress theme having so many awesome features with good functionality.
Shapely has an awesome and super clean design with a parallax effect.
I tested all of these themes myself and for Shapley, I found that,
Pros :
Too much clutter can be a bad thing but this theme gets rid of that.
There are multiple buttons. So you've got pretty much anything you want to put on that and get right to the information directly. 
There are lots of colour options with full-colour control over buttons and for your text.
It's very easy to edit. All you have to do is just click on the edit icon and it brings you right to the editor to edit that section.
Responsive and flat design and good plugin support.
Cons :
You cannot change the font.
You can't change the colour of your header, It has to remain white.
-But as in my opinion white is a good colour to stay with because when you have obnoxious colours like purple and blue headers it's a little overwhelming.
Overall it is a very beginner-friendly theme and one of the best free WordPress themes in 2022.
2. Mesmerize
Mesmerize theme is a multipurpose and easily customizable WordPress theme.
For Mesmerize I found that,
Pros :
It's got a nice bold action and a very colourful button design. It allows people to find exactly what they want very quickly.
It has a ton of design options.
You can change the dividers to like a million different types of dividers.
You can even add a colourful line to it, change the colour of that line.
It allows you to change button icons into any type of icon that you want.
Note: When you activate Mesmerize, I highly recommend that you select a preset and put in all the sample data. 
You can set your background images after you pick a preset. It has individual presets for different sections.
Cons :
The only thing I found was that you could not change the colour of the buttons.
So, This free WordPress theme is great to go with. 
3. Optimizer
Optimizer is the most advanced theme with a unique function as a live theme options panel.
For, Optimizer Theme
Pros :
One of the easiest themes that I've ever worked with because it has a front-page editor.
It's 100% mobile responsive.
It's very fast, search engine optimized, and free WordPress theme. 
It has a front-page editor.
This theme allows full-colour options for buttons and backgrounds.
You can edit the header and it has a transparent option.
Text fonts are editable with colours option.
The whole theme supports Woo-Commerce which is a bonus.
Cons :
Now the small con that I found for this free WordPress theme is that it's not fully customizable.
You're limited to about four different widgets.
For advanced options, you can choose this theme. 
4. OceanWP
OceanWP is one of my favourite WordPress themes.
It is more flexible than other themes and has good accessibility. 
Pros :
You can change the header and footer with text colours and fonts.
It's 100% customizable.
In this free WordPress theme, you can choose templates that other users are creating and putting online.
It is Beginner-friendly.
Fully responsive design and fast loading.
Developers-friendly and it provides best SEO practices.
Note: Go with page builder elementor for better usability.
Cons :
Premium extensions are required in the free demo. 
Ocean Extra plugin is required.
5. Hestia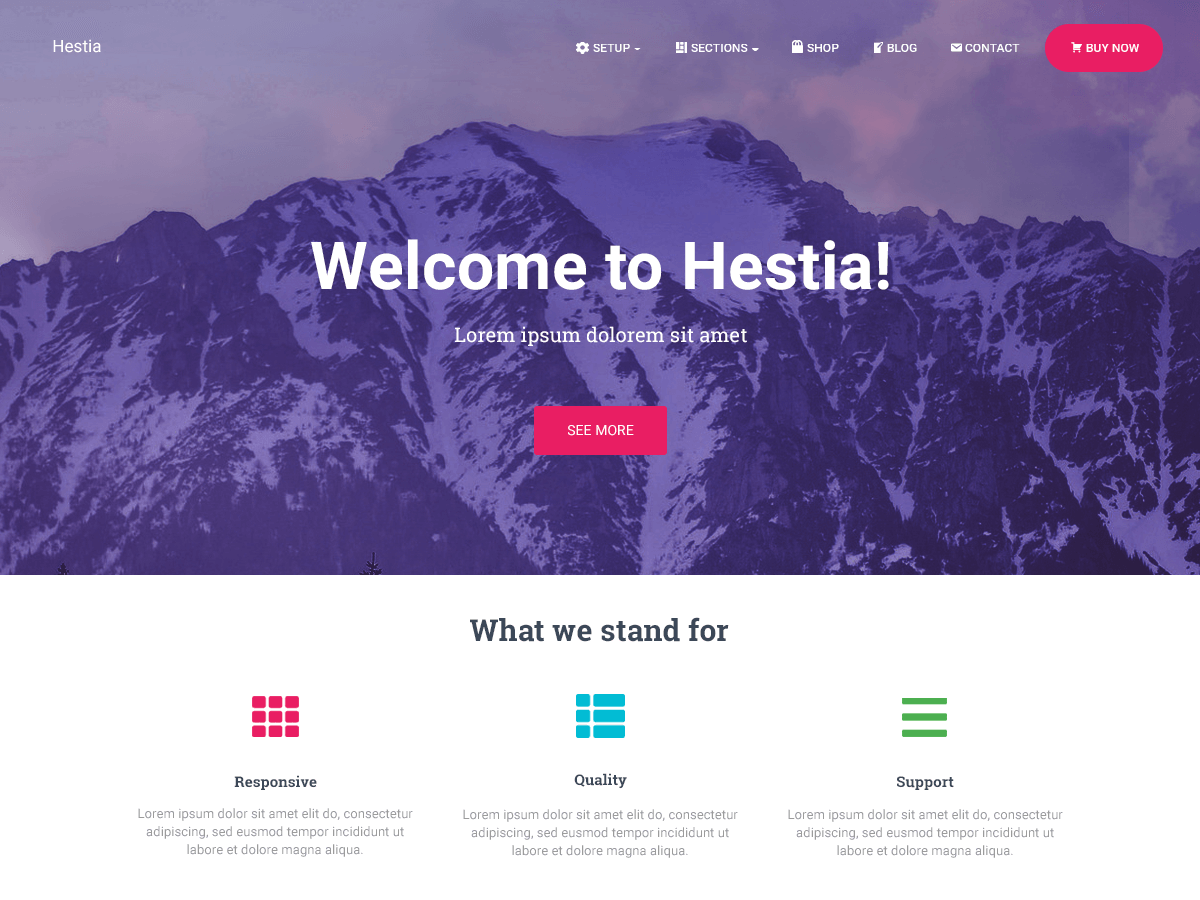 Hestia provides a better user experience with high performance.
Pros :
Super beginner-friendly and easy to edit.
It supports WooCommerce which is pretty cool.
Hestia provides a newsletter section for visitors, subscribers and clients.
Contact form section.
You can edit or change the text, backgrounds and accent colour.
Whenever you change the accent colour, it automatically changes the button as well as the colour of the contact page.
Cons :
Less SEO Optimized.
Speed is low. You have to optimize the speed of the website.
So, this free WordPress theme is best for beginners. 
6. Astra
Astra is one of the best free WordPress themes and it's highly customizable.
After testing Astra, I found that,
Pros :
We can change the width of the website with a full-width layout.
Gives the option to configure the logo.
The optimized theme for all devices.
You can change the header style and can add a custom button in the header.
Gives you a superfast performance. 
It's good for the page-builders.
Cons :
Blog post styling is basic. 
The free version is limited. 
7. Neve
Neve is the lightweight theme for better speed. It's flexible and easy to use.
After testing Neve,
Pros :
This Free WordPress theme comes up with a starter site & templates.
Neve supports page-builders.
The designs included in the free version are fantastic.
It provides templates in the Elementor library.
Neve is the perfect choice for general business.
Gives layout options. 
You can customize headers and footers.
Note: If you purchase the Agency plan of Neve theme, it comes up with priority and chats support. Not a lot of companies put an emphasis too much on support.
Cons :
The customer support system is slightly weak. 
8. Foodica Lite
Foodica lite is the perfect theme for food bloggers. It is also a WooCommerce supported with some excellent features.
Pros :
This theme is very easy to install.
Gives you professional food blog looks.
You can change the theme.
Provides you perfect space for advertisement.
Excellent index for recipe section.
Cons : 
Page speed is low compared to other themes.
9. Agama
This free WordPress theme is multipurpose and perfect for page-builders.  
For Agama, 
Pros : 
It has a simple and clean design.
Built on BootStrap 4 framework with parallax support.
It provides minimal and responsive web design.
Rich visual theme with extra highlights and a retina prepared plan.
Agama gives you a full-width template.
It is suitable for any purpose whether it is a personal or business website.
In addition, it provides theme options and flexible headers. 
Cons :
More features are in the premium version.
10. Just read
I'm personally using this free WordPress theme because it has a minimal design.
Just read give good readability to users that's why it is perfect for bloggers.
Pros :
Provides a better user experience for readers because it shows better content visibility.
It gives single-column content with perfect typography. 
You can customize the theme easily. 
Super fast, responsive and clean design.
The white space gives a better user experience and it is also a website trend.
Less maintenance is needed.
Cons :
Just read has fewer features compared to other WordPress themes because it is perfect for blogging websites. 
11. GeneratePress
GeneratePress is a lightweight WordPress theme. It gives more importance to fast speed, high performance and good usability.
After using this free WordPress theme I come up with,
Pros :
It is a fast loading and multi-purpose theme.
Perfectly usable for E-Commerce, B2B and blog websites.
Provides more features for better performance.
Gives you total customization and control capabilities.
Perfect for page-builders.
It is a well-optimized theme.
Allows page-level settings with customization.
You can change your theme layout according to your mood.
Cons :
The free version has very limited features.
12. Sydney
Like GeneratePress, Sydney is an ultra-popular theme. This free WordPress theme offers a lot of next-level design features that can instantly elevate your website.
Sydney theme is perfectly suitable for business websites. 
For this theme,
Pros :
It provides full-screen backgrounds in which you can put hero images for better user engagement. 
It has a parallax background. This feature is a modern web design technique where background elements scroll slower than the foreground content. This effect adds depth to the background images and makes them feel interactive and gives users a more fun engaging scrolling experience.
Sydney has a ton of fonts. In which you can easily access Google's 600 plus fonts.
It has a block base layout tinkering with boxes.
Sydney's block-based layouts take away a lot of the headaches and help you create a beautiful site quickly and easily.
It's fully compatible with WordPress page builder plugins. So you can create a ton of site pages and landing pages without technological restrictions.
It provides you with a custom widget and it's perfect for anyone who wants a user-friendly, gorgeous, ultra-modern site without any of the usual headaches.
Cons :
According to my opinion, the design could be better.
13. Hello
Hello is a free WordPress theme from Elementor and it is one of the top page builders on WordPress.
It is the self-proclaimed fastest WordPress theme ever created and it offers a lot of compelling features.
After testing the Hello WordPress theme I come up with the,
Pros :
It's completely compatible with Elementor theme capabilities. So, it's gonna work perfectly with the elements or plugin.
 – This is huge because Elementor allows your website to customize and design flawlessly from one central place.
It's a lightweight and fast WordPress theme.
It is fully compatible with WordPress plugins.
Gives you pretty much functionality.
It is an easily customizable and high-performance theme.
Cons :
The design of the Sydney theme is less attractive. 
14. Phlox
Phlox is one of my favourites and It has tons of options for the free version that some other premium themes usually don't offer.
This free WordPress theme gives your website modern look and it is perfectly useful for every website.
Pros :
You can customize every major part of your website using the Phlox theme customization option.
It is also WooCommerce supported theme.
Phlox design is very super fast and responsive for every device.
There are so many demos.
Provides awesome typography.
Cons :
Sometimes you have to optimize your website for speed.
15. Kadence
Kadence is starting to make a lot of noise now. It is a free WordPress theme with a lot of pro functionalities.
It is also a lightweight theme with fast speed.
For Kadence theme,
Pros :
Provides easy drag and drop features.
You can easily build E-Commerce, Blog and business websites.
It provides unique starter templates.
It is very secure and beginner-friendly.
Cons :
Starter templates are unique but it's less compared to other themes.
The Kadence block plugin is slightly difficult.
Which Does Free WordPress Theme You Will choose?
Now you have a better understanding of free WordPress themes. You can choose any of the above themes according to your need. But keep in my one thing, "Website Speed Is Important".
And thanks for reading this article. If you enjoy the article please do share this article with anyone whom you feel might benefit from it. You can also follow us on Twitter and Like us on Facebook.